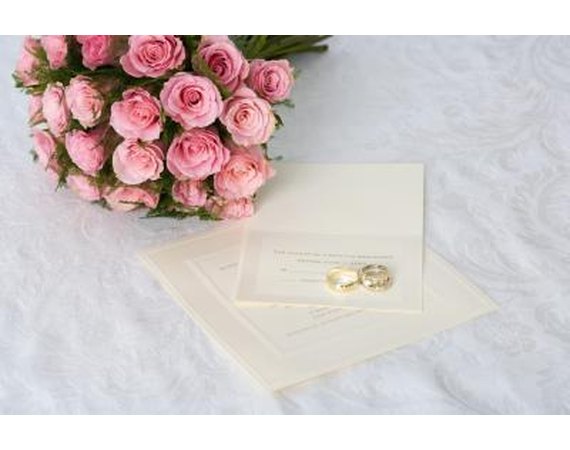 Receiving an invitation to a wedding can present all sorts of questions about what's appropriate and what's not, particularly when it comes to wedding guest etiquette. Many people know the basics of wedding etiquette when they plan to attend the wedding but have no clue what's appropriate if they are not attending the wedding.
RSVP
Respond to the wedding invitation using an included RSVP or regret card, or write your own regrets on a blank card. Letting the couple know you will not be in attendance, for whatever reason, allows them to invite others who might have been left off of the guest list because of capacity or budget reasons.
Write a simple note without going into too much detail or adding any drama. For example:
"Dear Sarah and Jason,
Regretfully, we won't be able to attend your upcoming wedding.
We wish you both all of the happiness you deserve.
Sincerely,
(your name)"

Gifts
Send the couple a wedding gift, even if you are not attending the wedding. It's not required, but it is proper etiquette. If you don't attend the wedding and choose not to send a card or gift, you are sending the couple a message that you really don't care much about their union or about them. Send the gift before the wedding if possible.

Last Minute Changes
Call the bride or groom, their mothers or someone close to the couple if you have committed to attending the wedding and can't at the last minute. If you cancel at the last minute, offer an explanation and make sure it's legitimate. For example, the death of a close relative or unexpected hospitalization would be legitimate reasons to cancel. If you just don't feel like attending or you're having a bad hair day, it's extremely rude and unacceptable to not show up. Weddings are expensive and require a lot of time, energy and planning. Respect the couple enough to show up if you've confirmed your attendance, unless an unavoidable, serious emergency arises.


---