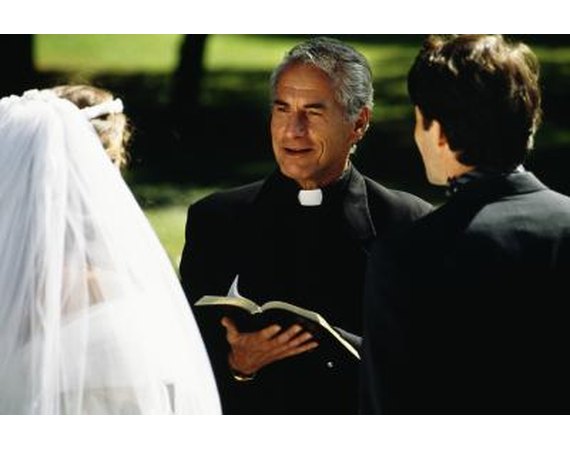 Planning a wedding requires a considerable amount of organization, including delegating financial duties to certain family members. One of the important things that needs to be taken care of is paying the preacher or wedding officiant for his services; following appropriate etiquette in this matter will ensure that the member of clergy is paid in a timely manner.
Clergyman Fee
According to traditional etiquette, the groom is responsible for paying the clergyman fee. In most case, the groom sets money aside for this purpose once he and the bride make their selection for a wedding officiant. In some cases, the bride's father will offer to pay for the preacher, which is also acceptable. If the preacher performing the wedding ceremony is the regular priest or pastor for the bride or groom or is the family pastor, he may offer a discounted rate for services or may not charge the couple to perform the ceremony.

Amount of Fee
It is usually appropriate to offer the preacher anywhere from $150 to $300 to perform the ceremony. This amount can be negotiable depending on how many duties the preacher is asked to perform, as well as the length of the ceremony. For instance, some couples may ask the wedding officiant to counsel them before the nuptials, say a special prayer or blessing that is not included in the traditional order of the wedding or to prepare additional readings for parts of the ceremony, such as the lighting of the unity candle or a heartfelt reading dedicated to the stepchildren of the couple.

When to Pay
It is acceptable etiquette to offer the preacher his fee immediately after the ceremony has taken place. Some couples prefer to pay the preacher ahead of time and to offer additional money, similar to a tip, after the wedding. It is also appropriate to invite the wedding officiant to the rehearsal dinner the night before the wedding and to invite him to stay for the reception as a gesture of appreciation.

How to Pay
The groom may choose to pay the preacher in the form of cash or a check and should extend additional thanks after the ceremony and reception have ended. It is also acceptable for the best man to pay the preacher after the ceremony by handing him an envelope. If any additional monies are given to the clergy for performing additional duties, it may be best to give this in cash. Contacting the church office will help clear up any confusion.

Gifts and Thank You Cards
Sending a thank-you card to the clergyman is in keeping with proper etiquette; the note should be handwritten and addressed by hand, and can be sent to the clergyman's home or to the church office. While it is not mandatory to send a gift, it is certainly a nice gesture that will be greatly appreciated. Gifts such as flowers, candies or a fruit basket are appropriate. It is also ideal to include reprints of any wedding photos that include the preacher with the thank-you card.


---
Wedding Etiquette Regarding Paying the Preacher eHow

www.ehow.com Culture & Society Etiquette Wedding Etiquette
Planning a wedding requires a considerable amount of organization, including delegating financial duties to certain family members. One of the important things that ...

Orlando Wedding Officiant Trusted Wedding Officiants in Orlando ...

www.youtube.com/watch?v=dO1YKU-REw0
http://www.abeautifulceremony.net/ Orlando wedding officiant offers 3 special bonuses to their clients. Important questions when hiring a wedding officiant ...

Wedding Speech Examples

ramsowerinc.com
Wedding Speech For A Best Friend Examples; Best Man Wedding Speech For Younger Brother Template; Wedding Speech Bride To Groom Examples; Wedding Speech Order Of ...

Step-Mother's And Wedding Etiquette - Circle of Moms

www.circleofmoms.com/.../step-mother-s-and-wedding-etiquette-641618
Step-Mother's and Wedding Etiquette - Step Parenting ... I was reading a few articles online the other day about what proper wedding etiquette a stepmother should ...

Free Wedding Advice on Wedding Etiquette and all Wedding Questions ...

freeweddingadvice.valeriesweddings.com
wedding etiquette; etiquette; Free Wedding advice; Wedding Advice; Valerie Lehman; Free online Wedding Consultant;Wedding Planning Advice Topics;Free Engagement ...

Short Wedding Dresses,Elegant Wedding Gowns,2013 Wedding Dresses

www.felldress.org
The best professional wedding dresses online shop, Good at designing dresses to wear to a wedding, prom dresses, bridesmaid dresses, evening dresses, flower girl ...

Workplace Issues - Travel Advice - Credit Advice

www.marketwatch.com/spending-saving
Credit Advice - MarketWatch offers travel advice as well as news and articles on the latest workplace issues.

What Does the Groom's Mother Pay for at a Wedding? eHow

www.ehow.com Wedding Traditions & Customs Wedding Traditions
Except for a few instances, the mother of the groom doesn't pay for wedding costs on her own; she usually splits them with her husband. The rehearsal dinner, the ...

Elegant Wedding Venues: Banquet Halls, Best Wedding Places in NJ & NYC

www.landmarkvenues.com
LandmarkVenues offers unique wedding venues, banquet halls, and catering facilities in NJ & NYC for your wedding reception or special event.

Wedding Invitation, Wedding Gift

wedding.wetalking.org
Website about wedding invitation and wedding gift. Free download samples here.